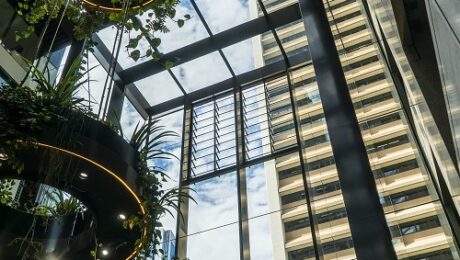 EBSA is thrilled to have three of our projects named as finalists in the Australian Glass and Window Association State Awards.
An outstanding achievement by the whole team and true recognition of EBSA's commitment to delivering leading-edge innovation, design and technology within the construction industry.
The Harrington Collection -Finalist in the $100 to $750K Commercial Category
This impressive development consists of 58 dwellings across three buildings, including two new low-rise towers and the restoration of two heritage-listed Bakers Terraces built in the 1870s. It is one of the only large-scale mixed-use residential projects to have gained government approval in the precinct in the last eight years.
EBSA was thrilled to have the opportunity to be involved with this exceptional project with the supply and installation of the Schneider single glazed louvre system and associated fixings.
Project Features:
• Schneider LF550 Louvres (2256w x 2162h) with 13.52 mm glass.
• RZN4416-M Control Panels
• LT84-U Ventilation Buttons
• VRS10 Weather Sensor
The overall height of this system stands at just under 13 metres, with spandrel panels between the floors, making it a true operable façade and all-in-one system.
Developer: Golden Age Group and Hannas Group
Builder: Icon Co
Architect: fjmtstudio
No. 1 Anzac Square – Finalist in the $100 to $750K Commercial Category
Located on Anzac Square, The Complex Precinct is comprised of over 52,000sqm NLA spread across two commercial towers and an iconic heritage building. The project includes a striking five-storey glazed atrium that showcases EBSA's LF550 Louvre System with the 17.52mm glass fitting seamlessly into the façade to deliver a natural ventilation solution.
Project Features:
Schneider LF550 Louvres;
• 4 x 2236mm wide x 4500mm high
• 450mm high glass blades
• 13.52mm thick glass
CPSM Control Panel;
• Security lockout function
• Fault indication
• Weather station wind/rain
• Close on loss of power
• 72hr battery backup
Client: AsheMorgan
Builders: Hutchinson Builders
Architect: Architectus
Vedalia – Finalist in the Under $100K Commercial Category
Located in the harbourside suburb Double Bay, this three-storey luxurious apartment block comprises just seven units. The opulent building design and desirable location saw the penthouse recently set a recording-breaking price per sqm for an apartment in Sydney's east.
The front lobby features a 4.5m high ceiling and showcases EBSA's Fixed louvre system; delivering a visually-pleasing entrance with abundant natural light and ventilation.
Project Features:
• Supply and installation of 126 fixed brackets
• Installation of 95 glass blades supplied by G James Glass and Aluminium
The louvre system was installed onto another quality G James Glass and Aluminium project
Builder: CD Construction Group
EBSA was thrilled and honoured to receive a Highly Recommended for 'Excellences in Customer Relations' in the Building Services and Supplies Category at the recent Australian Achiever Awards. A huge congratulations to the whole EBSA team; this is a true recognition of the commitment and value that each individual team member places on ensuring that we deliver our clients the best possible service, knowledge and products.
The Australian Achiever Awards are an independent, unbiased award system based on assessment ratings from a business's own customers. The award system focuses on eight criteria; time-related service, addressing client needs, care and attention, value, attitude, communication, overall perception and referral. "Anything above 80% overall is regarded as exceptional and reflects outstanding customer service". EBSA was overjoyed to receive a score of 94.23% for customer satisfaction.
Congratulation to EBSA and above all, thank you to our wonderful clients who entrust us to provide them with excellent service, knowledge and world-leading products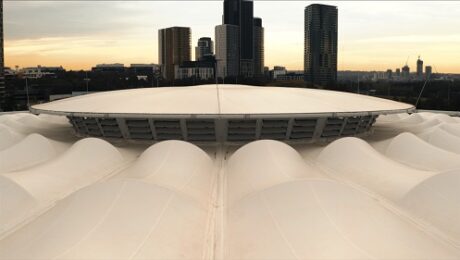 EBSA is thrilled to have been awarded the D+H Atmosphere Award in the 'Gold' Category for the Ken Rosewall Arena project. A huge congratulation to the EBSA team, an outstanding achievement!
The Ken Rosewall Arena (KRA) is an award-winning, multipurpose arena located at The Sydney Olympic Park Tennis Centre. The arena, which includes seating for 10,500 guests was originally purpose-built for the 2000 Sydney Olympic Games.
The $50 Million upgrade, completed in 2020, transformed the arena into a state-of-the-art, multi-purpose venue suitable for all-weather conditions with the striking new cable-tension canopy roof (of approximately 8,000 m2) replacing the original perimeter-only roof.
Designed with an Australian summer and safety in mind, EBSA was engaged to deliver a system that ensures that both the players and crowds enjoy the comfort of a well-ventilated arena with a natural ventilation solution incorporating 34 x thermally broken louvres and 2 x thermally broken operable access hatch (doors) in the pop-up oculus to provide a natural ventilation and smoke relief solution for the centre.
EBSA is proud to have been involved with this exceptional project; designing and delivering a full turnkey solution with the supply and installation of the BT90 louvre system, a CPSM smoke control panel and digital ZA louvre actuators. The integration of ACB technology provides digital communication between the louvre actuators and the BMS system; a remote access gateway removes the need for a technician to visit the site, allowing real-time monitoring and functional checks of each individual drive to occur via a secure cloud server.
Products:
1 x CPS-M/60 Smoke Control Panel (1200mmm x 1000mm)
34 x Schneider BT90 Louvres (1406w x 1780h) complete with 34 x ZA-800-ACB Actuators
2 x Schneider Operable Hatches (1780w x 1780h) complete with 4 Simon Folding Arm Actuators
24 x Relinta Operable Glass Doors (12m x 3.6m)
2 x SLT42 Key Switches
2 x LT84U Switches